Restaurant Review: Foodbar Dada
Spanish tapas is one of my food loves; I absolutely adore the simple, unpretentious and hearty food served at many tapas bars in Spain and i've been on a lookout for a good one in Singapore. You can imagine my excitement when FoodBar DaDa opened. This haute tapas bar sounds just up my alley and is situated at one of my favorite dining enclaves, Robertson Quay.
It's easy to miss this bar; you can hardly spot the small black sign on top. The green tinted glass and black metal grille facade camouflages it well. The industrious looking gate, without a sign or knob, shields dinners from prying eyes outside. Once in, you'll be seated along a grunge yet chic alley, perched on tall stools around the kitchen bar.
Start with a bespoke cocktail by local bartenders Eugene and Din. Simply tell them what you feel like having and you'll get what you want. I asked for sweet and refreshing and i got a Blackforest Mojito (S$19) served in a tin can. Z had the Out of This World which had a light floral elderflower liquor base. The drinks tasted special but i could hardly taste any alcohol in them.
Our amuse bouche was Toast with roasted red peppers, onion and vinegar. It tasted kind of like pizza but with a burst of summer in it.
The presentation of the Watermelon Gazpacho and Charcoal Olive Oil Ice Cream (S$12) was unique, being served in a martini glass. This is reminiscent of the best cold tomato soup i had in Madrid but with a hint of Asia in it (fried shallots really?). The olive oil cream helped neutralize the acidity of the tomato to give it a smoother texture.
Most dishes are cooked in the acclaimed Josper grill, a pressurized charcoal grill that retains the natural flavors of the ingredients while giving them a nice smokiness. The Baby Squid and Eggs (S$18) was fresh and smoky but the heavy use of garlic once again is very typically Asian cuisine. The dish is salty on its own but the sodium kinda evens out when eaten with the fluffy brioche-like toast.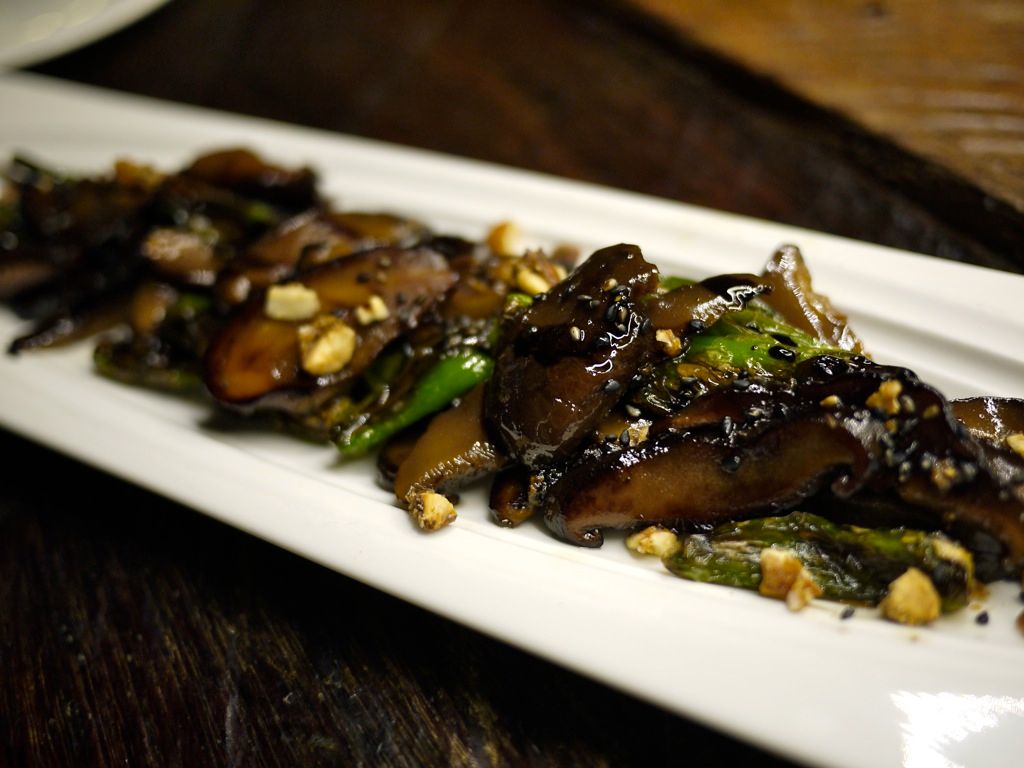 On first taste, the Shishito Peppers with Shitake Mushrooms (S$11) was sweet then citrusy. I love the pistachio and nut crunch that accompanies the earthy ingredients. However, i can't shake off that nagging feeling/taste of Chinese cuisine.
I was absolutely confounded after tasted the Black Mediterranean Rice (S$8 for a portion). There is no doubt that the paella was executed nicely (al dente and moist), but if i close my eyes and taste this, i would say it's rice cooked in Sukiyaki soup. The dish was missing the smokiness of the squid ink as well as that savory seafood taste. Up to this point, i started wondering if i was having Japanese food instead.
The chef was quite amused by my description of the dishes (he thought i am Japanese). Apparently that's how paella is done in Catalunya. I've only tried Paella Valencia in Madrid and Barcelona so there's no standard to compare to. The open concept kitchen indeed allowed for interaction between the chefs and patrons though we were the only ones chatting with the cute Brazilian chef. Do you know that paella was originally cooked with only vegetables? The Spaniards simply threw in whatever ingredients they could find during the war and that's how the dish came about. Little bit of history from our chef. :) We ended up reminiscing the fresh food and produce at La Boqueria in Barcelona. A trip back is definitely needed.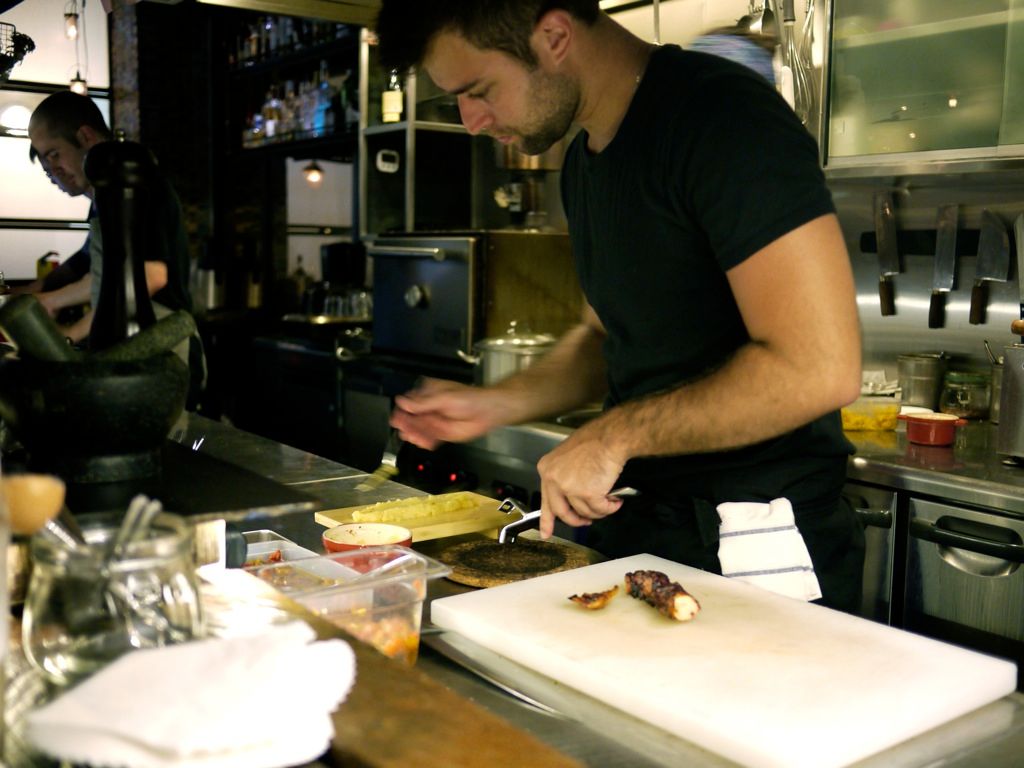 I would say that the dining experience at Foodbar Dada is chic but comfortable. It's not for everyone though, especially if you have a huge appetite. Remember, this is a haute tapas bar and they do small plates. Flavors wise, i wish they would have more typically Spanish food like croquetas, chorizo, Spanish omelette, jamon, meatballs... the more hearty sort of dishes. Good news is that the menu changes every now and then. New dishes would be coming out 2 weeks later. Hopefully it's more Spanish then.
Foodbar Dada
60 Robertson Quay, #01-12
Tel: +65 6735 7738
Tue - Sat: 6pm - 12am