Restaurant Review: Backyard@Dempsey
I have a love hate relationship with Dempsey. I like that it's near town but secluded, and i also love the quaint and sophisticated vibe. Of course the flip side of the coin is that it's pretty inaccessible (i've only walked there once and i died) and it could be quite pretentious (i don't feel quite comfortable at certain restaurants. They practise certain sort of colour discrimination).
It was with much delight when Backyard@Dempsey opened its doors. I feel perfectly at home here, wandering the open grounds and lounging on the wooden deck, enjoying a drink (or 2) with friends, laughing loudly making noise without being judged by anyone. You don't even need to dress up. Shorts and slippers are welcomed too (stamp of approval from the boss). Perfect isn't it?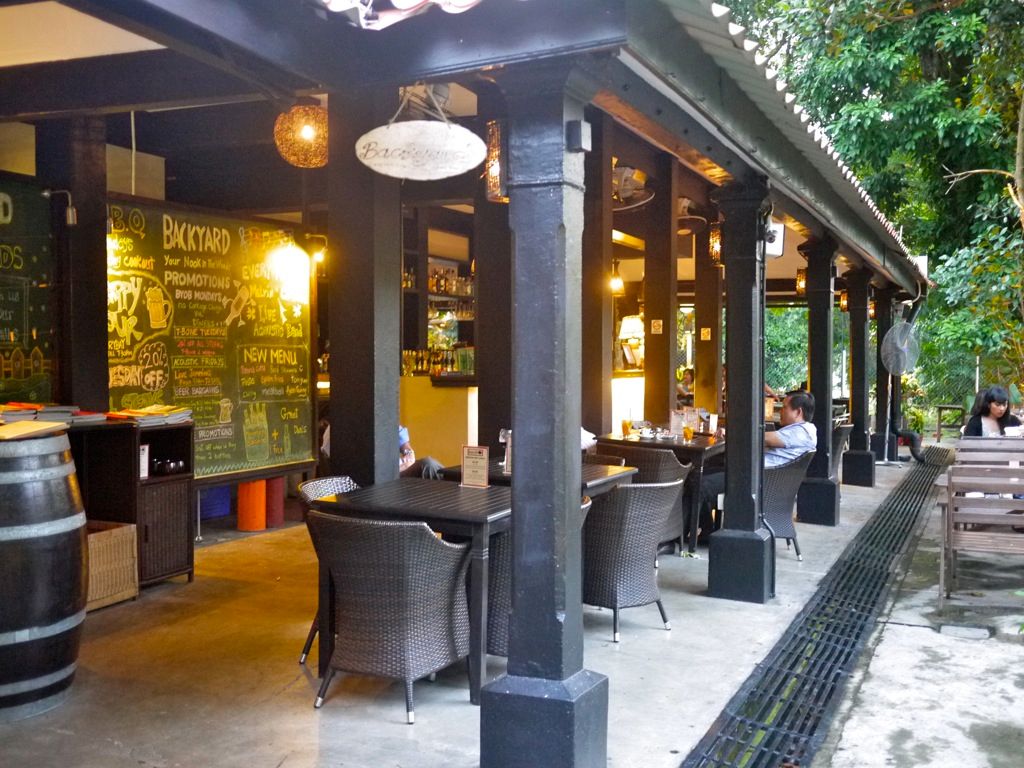 I was a little concerned about the alfresco dining concept here as Singapore nights can be pretty humid. However, the lush greenery and the cool dewy air together with the constant movement of air from the strategically placed fans kept us cool all night.
Under the encouragement of Val, W & i ordered the Backyard Jungle Juice (S$11/14) and Longan Mojito (S$10/13) to kick start our weekend (thurs is the new fri. heh). The Jungle juice was a Pomegranate, Mango and Gin mix which was a refreshing and exotic tropical blend. It tasted innocuous due to the sweetness but i was quite the happy and vivacious camper after a few sips. Alcohol is such the social lubricant. Spirits, shots, beer, wines and cocktails are available and happy hour is till 7.30pm. Now hit me with the cheap drinks! Whoo!
We had 2 soups. The Cream of Shitake Mushroom (S$6.30) was a creamy and peppery start to dinner. Nice slices of shitake mushrooms in this one too. The Lobster Bisque (S$7.30) was adequate but kinda lacks in the umami flavor of a rich seafood broth. There is some smokiness in the soup but just a little diluted for my liking.
Seriously who can resist
Spam Fries
(S$9.80)! I'll have this over french fries anytime. This is a lightly battered juicy chunk of Ma Ling luncheon meat. The wasabi mayo dip is not too pungent or sharp and goes very well with the artery clogging fries. Excuse me, where is my instant noodles?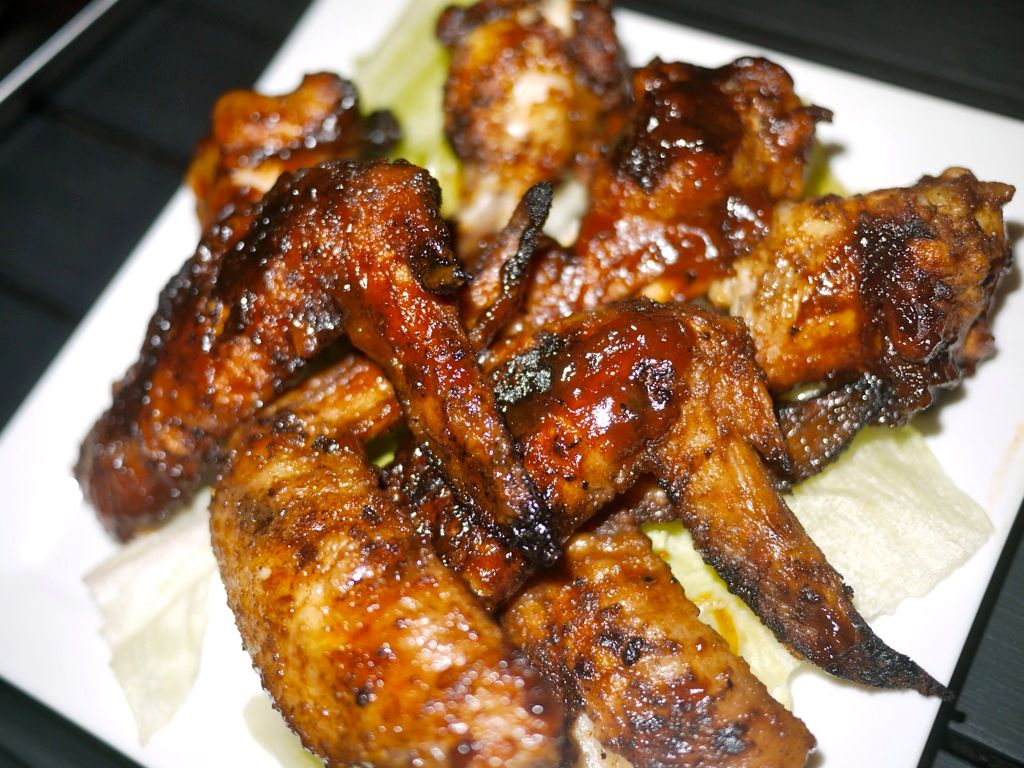 The BBQ wings (S$2.10ea min 3/order) are nicely grilled and smoky. I'm not a BBQ sauce fan as it could be quite overpowering sometimes. Even though i'm into strong flavors, i don't like my food to be overseasoned as well. This was just right for me. Great for sharing too.
Meat lovers would really rejoice at Backyard because it's packed with meat. If you hate your vege, you should should still give the Chargrilled Vegetables with Truffle Oil (S$13.80) a shot. Love the smoky flavors from the grill and the sweet juices from the aubergine and zucchini. This has got to be the least vegee veg dish.
Not a big fan of the pastas. I thought it to be a little over creamy and overcooked. It's quite the dry and sticky sort. The Grilled Chicken Spaghetti (S$12.80) was quite bland even with the cajun spices, till i bit into the jalapenos. It really does give the dish the much needed vinegar kick. Tom Yum (S$15.30) was a little dull though.
Now on to the other mains.
The Kroenbourg Beer Battered Fish & Chips (S$14.30) is one of my favorite. Moist and fresh bassa fillet is battered (there's the breaded version too) and fried. The meat is slightly sweet and very succulent. This is equilvalent to the top Pacific Dory grade.
The mains come with fries and coleslaw. You can change it to other sides like sauteed mushrooms, cheese baked potato (highly recommended), mash (pretty awesome too). I would top my fries with the Chili Con Carne, which is a flavorful mix of beef, tomatoes, onion, jalapenos. You can add this to corn chips, hot dog etc. I'll so order the chips with salsa, melted cheese dip and on top of that the chili con carne. That'll only set me back by S$12.80. Say wert?!
If you love your steaks, pick from the selection or ribeye here. The US Black Angus Prime Ribeye 250g (S$45.80) was nicely grilled and tender. It comes with a thick mushroom gravy but it tastes quite perfect on its own. The truffle salt topping (S$2.80) is also quite interesting and there are others like blue cheese to choose from.Wagyu Ribeye with a 4-5 Marbling is also available for S$52.80. What's awesome is that Backyard has a Tuesday Steak Night and that's a 20% off all steaks. Awesome! The carnivore in me is doing a rodeo dance right now.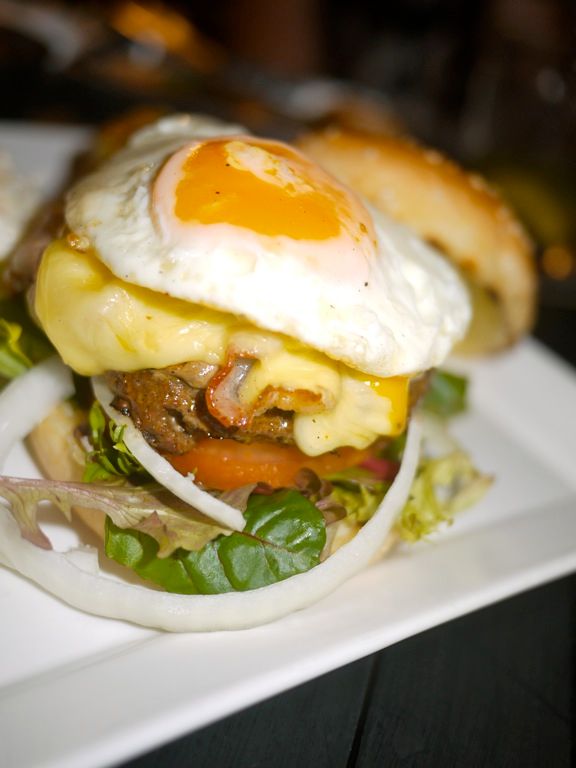 Backyard Sunrise Burger with Baked Cheese Potato (S$13.30) is made with NZ Beef patties, served medium well, and topped with streaky bacon, cheddar cheese and a sunny side up. Very hearty and satisfying. It's massive but not as ginormous as the Dressed up Dog (S$13.80)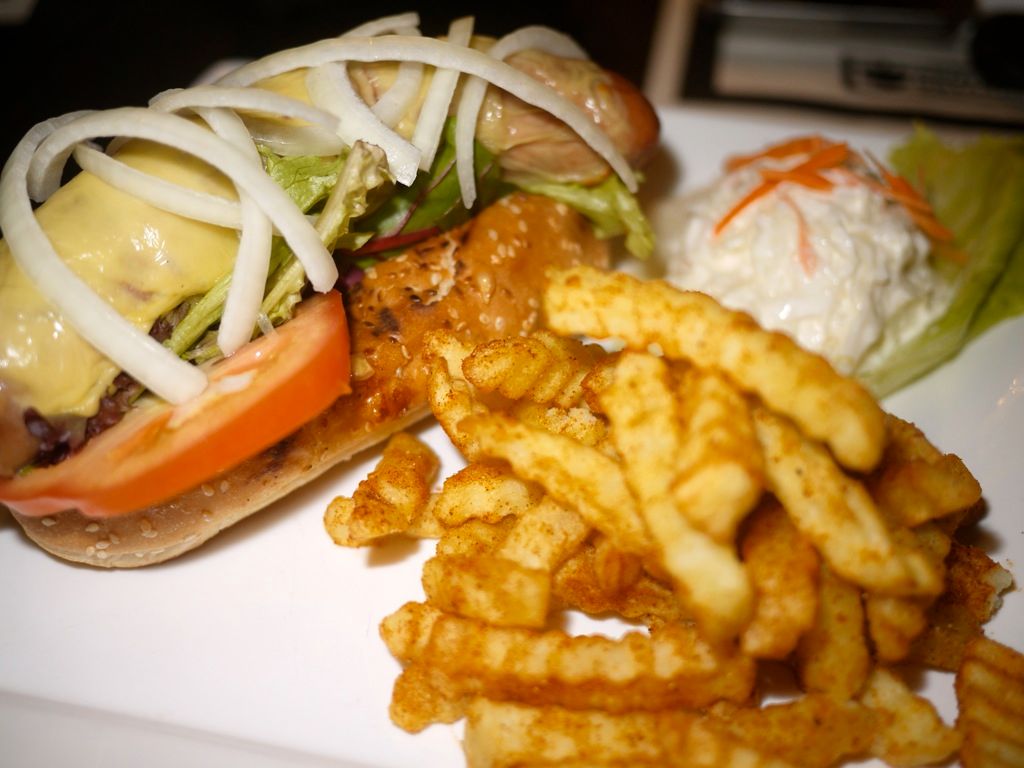 Now, this fella is wrapped with the same toppings as the burger. We had the slightly spiced pork sausage which was uber satisfying. Get your hands dirty and grab hold of that dawg. I would not let anyone steal mine.
We were thoroughly stuffed by the time desserts were gonna be served but well, women do have a separate stomach for sweets. The Affogato (S$7.30) is served with a smooth scoop of Devonshire Clotted Ice Cream instead of regular vanilla. This has a much smoother texture and it's also less sweet. Not too sure about the calorie count though.
I'm not a Panna Cotta fan so i can't judge what's the perfect PC. It's smooth but a little firm. I would prefer it to be a little more milky and gelatinous.The Blueberry and Honey Walnut Panna Cotta (S$7.30) were alright though I would rather save the space for their savory sides.
This tasting is one of the most comfortable and relaxed one that i've been. The combination of hearty and affordable food, chillaxing atmosphere, drinks (lots of it), great conversations and awesome hosts really made for a wonderful night out.
Thank you Han, Val and Jerome for the invitation
! I will definitely be back. They have bands playing on Friday nights. Definitely the perfect way to unwind after a week at work. Cheers!
i'm not that short i'm just making space for Val at the back. :P
130E Minden Road
Singapore 248819
Tel: +65 6479 0388
Daily 11.00am - 12.00am