Culture: Peranakan Museum
Singaporeans often complain there is nothing to do on weekends other than eat, shop and watch movies. The malls are always packed to the brim but there are so many other places that would allow you to roam around freely and provide experiences more satisfying than picking out a discounted pair of heels at Zara or going into HnM for the umpteenth time.
Photo: PPBNKLS
Why not spend an enriching afternoon at the museums? Immerse yourself in the rich knowledge and cultural experiences in a tranquil and serene environment that allows for pensive thoughts and intellectual conversations. I guarantee you will walk out feeling rested and balanced.
There are generic museums that could be replicated all over the world and then there are museums that reflect the culture and identify of the people. The
Peranakan Museum
is the latter. I'm not a Nyonya but the
Baba-Nyonya culture
has been very vibrant and we do see influence of it in our daily lives, from the kuehs that we have for breakfast to certain way of life.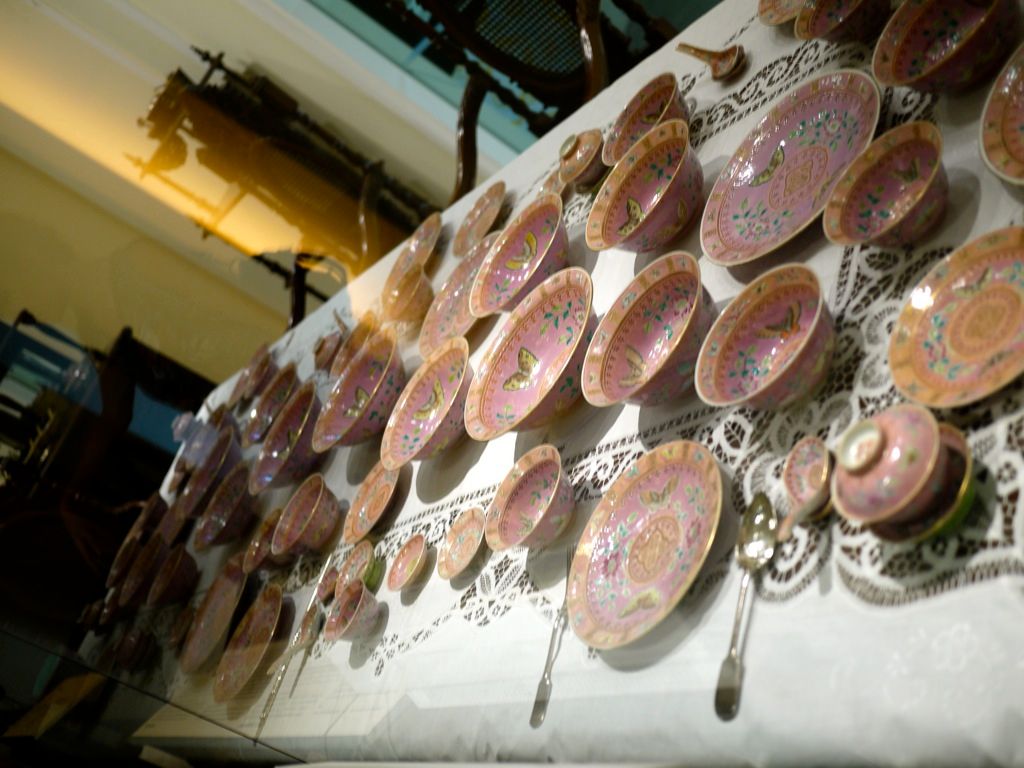 I still have these bowls and plates at home. They have insects painted on them; butterflies and bees symbolizes a good harvest and that there will always be food on the table. Interesting nuggets of information.
The permanent exhibits touches on all aspects of the Peranakan life, from customs, traditions, life to death and the food as well. I'm so getting one of these intricate table and chair set. The carvings are set with mother of pearl. Throw in the telephone as well. Nice.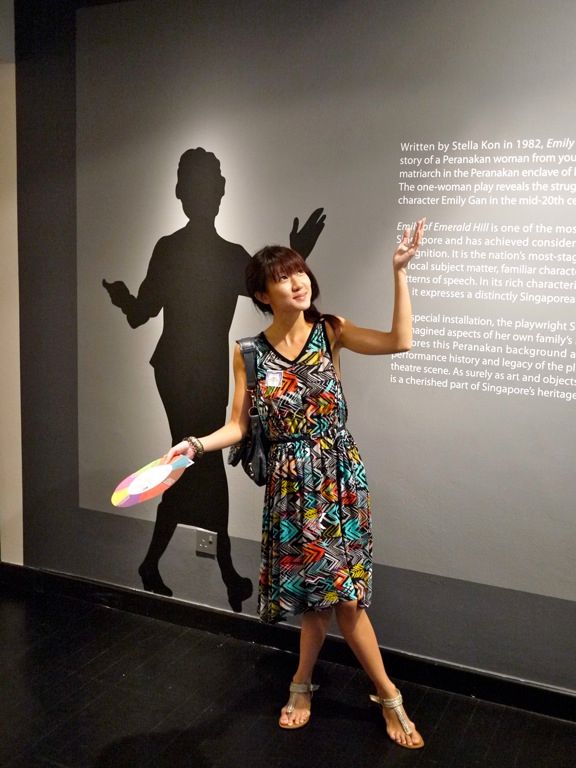 From June 2012 till 17 Feb 2013, there is a special "Emily of Emerald Hill: Singaporean Identity on Stage" exhibition. It's one of my favorite local plays. This exhibition examines the creation and impact of Stella Kon's writing as well as its relevance in contemporary Singaporean culture. Comes highly recommended. S and i had fun looking at all the exhibits and collecting embossed stamps on our visit card. The kids would absolutely dig this.
If the above is not enough to entice you (seriously?), admission is free for all Singaporeans and PRs to ALL the exhibitions for August 2012. Don't wait any longer!
To top off the Peranakan experience, you can hop over to
True Blue Cuisine
for a decadent Baba meal or simply be more appreciative of the typical Ang Ku Kuehs or Soon Kuehs that are available everywhere. Will be introducing a Nyonya Kueh shop to you in a bit. Stay tune!
Author's note: I'm sure some of you guys were making a mental comparison between our very own National Museum to famous ones like the Met, the Louvre and the British Museum. Ok. Apple and Orange. Bottom line is, sometimes we need to be more appreciative of what we have and stop comparing all the time.
Peranakan Museum
39 Armenian Street
Singapore 179941
Monday: 1pm to 7pm
Tuesday to Sunday: 9am – 7pm (to 9 pm on Fridays)