Desserts: Creamier
What's your favorite childhood dessert? One of my favorite is the $1 ice cream slab sandwiched between a slice of rainbow colored bread (it still is). It's not that the ice cream is tasty, it's the whole experience. The delightful tone of the bell, shillings dropped into outstretched little hands, the thrilling click of freedom coming from the impenetrable fortress (aka my gate) and running out into the wild open for a taste of that ice cold sweetness. Oh yes, the little joys from the perspective of the little one.
These days, it's hard to elicit the same kinda excitement in me. Too many so called artisan ice cream stalls charging exorbitant prices with sub standard ice cream have made me cynical. I stick to my favorite
Salted Caramel
or
Alfero
who whip up homemade goodness that's inexpensive and is equally charming. Adding to that list is
Creamier
, a cooler than cool ice cream parlor in the sleepy estate of
Toa Payoh
.
Standard
(S$2.90sgl, 4.90dbl) and the
Premium
(S$3.90sgl, 6.50dbl). Extra scoops are at S$2/2.50. I'm not sure what's what so i just ordered whatever i felt like having.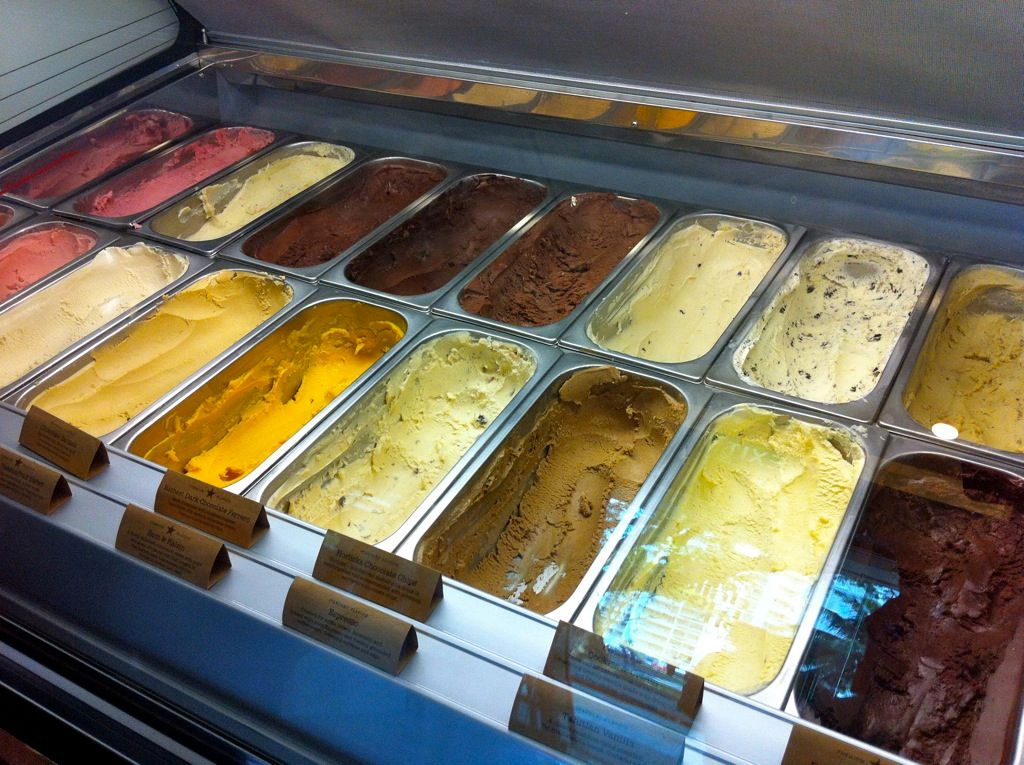 The flavors are quite interesting, at least those that caught my eye were.
Avocado
,
Earl Grey Lavender
,
Orange Banana Sorbet
,
Tahitian Vanilla
(full of vanilla beans!) etc. What's really good is the creaminess of the ice cream and the intensity in flavors. The
Chocolate Mint
ice cream was like liquid After Eights chocolate. No kidding. It's the darkest chocolate mint ice cream i've seen (it's not even green).
We had that with the chocolate lava cake which was either of a really high cocoa content or it has some alcohol in it. My taste buds were really confused but it was that same dry and bitter mouth feel. Pair this with a sweet milk base ice cream and it'd be alright. Don't expect too much lava flow, it's the slightly coagulated sort.
The Earl Grey Lavender was a tad too sweet for my liking and that kinda masked the Earl Grey flavor. Lavender is an interesting and suitable twist to the typical tea laced dessert. Have it on a Belgium waffle (S$6/6.50 with sgl scoop) if you wish. Or pair it with a cup of hot coffee. Beans are sourced from a premium roaster that remains undisclosed. They also have my favorite Kopparberg Cider. Heh.
So yea, this is another addition to my favorite ice cream list. Will be heading to them when my ice cream man doesn't come ringing. Same old charm with a modern twist. That's my kind of ice cream.
Creamier
Blk 128, Toa Payoh Lorong 1, #01-835
Singapore 310128

Tel: +65 6250 1476
Tue-Thu: 12 - 10pm
Fri-Sat: 12 - 11pm
Sun: 12 - 10pm