Event: Zespri Kiwifruit Giveaway
It's been
12 day
s since the start of my
Zespri 14-Day Daily Scoop of Amazing Challenge!
(Read about the competition here) Whee. I can't believe i am still surviving. I think i have annoyed my friends pretty much on my personal facebook account. A friend commented that i ought to become a New Zealand PR since i love it so much. I believe he meant that with sarcasm. :/ Sorry guys.
So what
benefits
did i reap from this challenge (apart from the insane number of kiwifruits delivered to my doorsteps)? Well, i believe it has really given me
better complexion
! I mean.. at the start it was pretty bad. I suddenly had an outbreak of pimples but that's kinda like detoxing my skin, clearing the clogged pores and stuff. Exactly the same thing happened when i visited my dermatologist previously. So yea, beauty tip here! Eat more kiwifruits for detox! It's cheaper than visiting the doc's. Or better still, apply some on your face. Here is my
kiwi yogurt mask recipe
if you missed it.
To reward my dear readers, i'm giving away some cute Zespri Kiwifruit stuff. Check this out.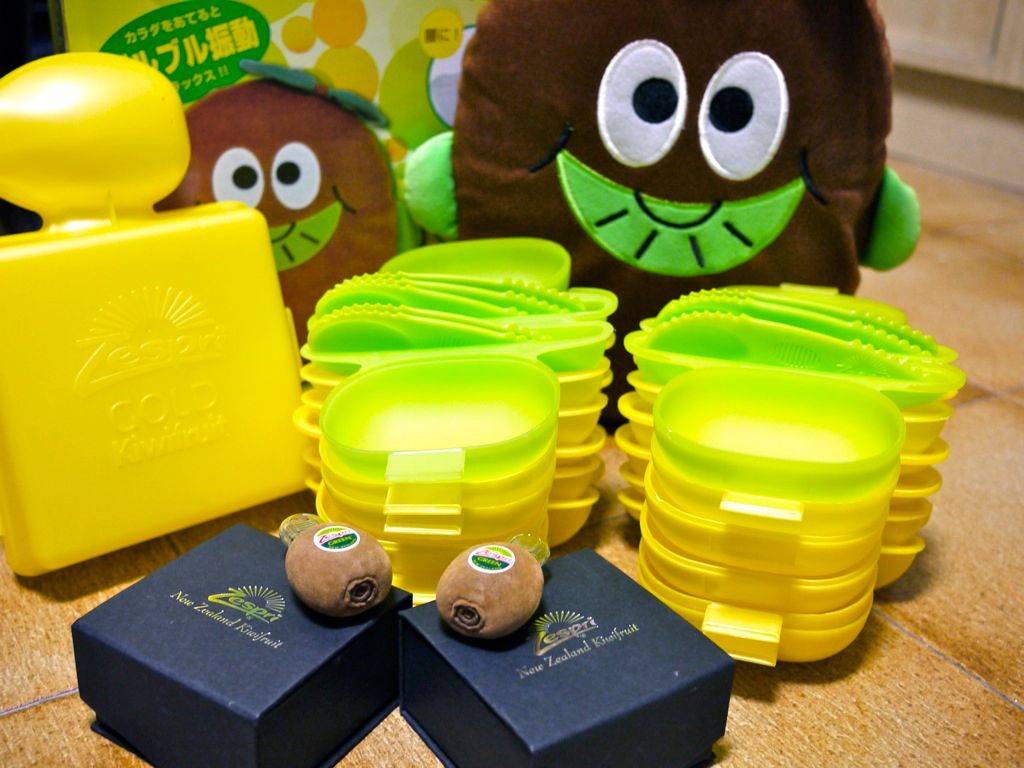 Remember the cute
kiwifruit holder
that i've been using? I have
9
to give away! Comes with a spife as well. Then there are also
2 furry kiwifruit thumb drive
which are absolutely adorable.
1 Zespri Gold Lunch Box
(mother of all kiwifruit holders). And finally, see the kiwi toy at the back? That's actually a massager! It vibrates your aches away. I have
3 of the Kiwifruit Massager
to give away as well!
There are several ways to win something from this stash.
1.
Leave a comment
on My blog or Facebook page (
www.facebook.com/MsSkinnyfat
). Tell me why you like reading my blog or like kiwifruits.
2.
Share
or
Like
this post on Facebook
Depending on the response, i'll either just give it to those who actually do comment on something or use a randomizer. I noticed that my readers are quite shy about interacting with me on my blog or facebook or twitter for that matter. I won't bite really. :)
Remember to also tell me which of the items you prefer so that it's easier for me to give you something.
Have a kiwified week ahead! Peace out.